The Definition
What is the gift for 47th anniversary?
In today's world, where long-lasting love is rare, it's more crucial than ever to express our admiration and gratitude for those couples whose love has stood the test of time, in particular those who have made it to their 47th wedding anniversary. We've come up with a list of the best 47 year anniversary gift to help you pinpoint the right 47th anniversary gift for your spouse, your parents and your friends.
- Traditional theme: None - Modern theme: Book - Gemstone: Amethyst - Color: None - Flower: Camelia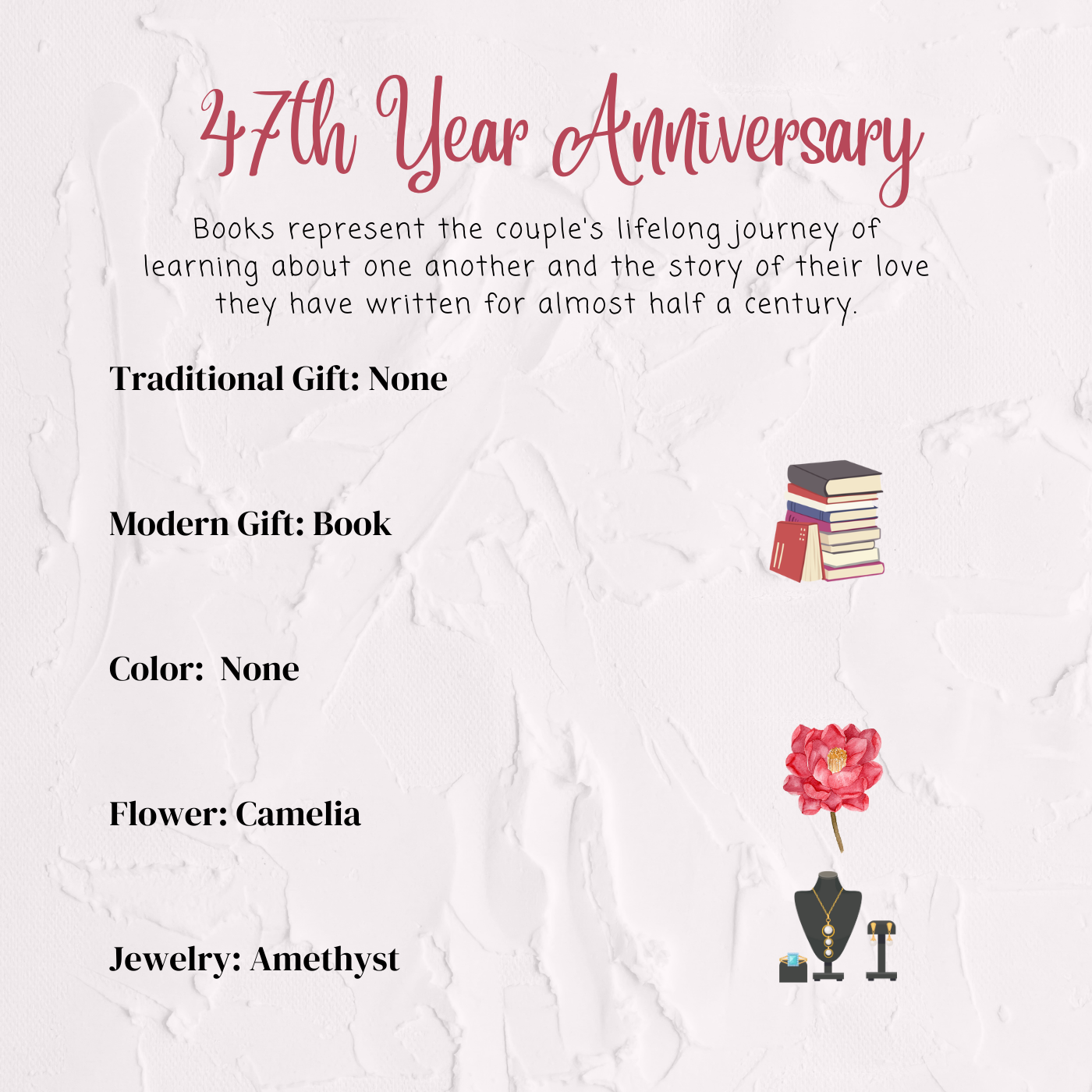 The Symbol
47th Anniversary Symbol
There's no traditional 47h year wedding anniversary gift. 
The modern theme for the 47th anniversary gift is books that represent the couple's lifelong journey of learning about one another and the story of their love they have written over almost half a century.
The Traditional Guide
Top Traditional 47th Year Anniversary Gift Ideas
The Modern Guide
Top Modern 47th Year Anniversary Gift Ideas
Common Questions About 47th Year Anniversary
Yes, a book can be a great gift for a 47th wedding anniversary. While there is no traditional or modern gift associated with this anniversary year, a book can be a thoughtful and meaningful gift that reflects your partner's interests and personality.
Consider choosing a book that holds special significance for your relationship or that your partner has expressed interest in reading. You could also opt for a personalized book that includes your own story, such as a scrapbook or photo album of your shared memories over the years.
If your partner is an avid reader, you could also consider gifting them a subscription to a book club or a bookstore gift card so they can choose their own books to enjoy. Whatever book you choose, it's a thoughtful and personal way to celebrate your 47th anniversary and show your love and appreciation for your partner.
Gifting a book can have different meanings depending on the context and relationship between the giver and receiver. Here are a few possible meanings:
Sharing knowledge or experience: If you give someone a book that you have found helpful or informative, it could be a way to share knowledge or experience that you think could be useful or interesting for them. This could be a non-fiction book about a topic they're interested in or a memoir that relates to their life experiences.
Expressing appreciation or affection: Giving someone a book that you know they will enjoy can be a way to show your appreciation or affection for them. You might choose a book that relates to their hobbies or interests, or a classic novel that you think they would appreciate. By giving them something that you know they will love, you're showing that you pay attention to their likes and dislikes and that you care about making them happy.
Inspiring or motivating: A book can be a source of inspiration or motivation, and gifting someone a book that you think will inspire them or help them achieve their goals can be a way to show your support and encouragement. This could be a self-help book or a biography of someone they admire.
Overall, gifting a book can be a thoughtful and meaningful gesture that shows you have put effort and consideration into choosing a gift that reflects your relationship and your appreciation for the recipient.
There is no traditional or modern gift associated with the 47th wedding anniversary, but here are some alternative gift ideas that you could consider:
Experience gifts: Rather than a physical gift, consider giving an experience that you can enjoy together. This could be a romantic weekend getaway, a cooking class, a concert or theater tickets, or a hot air balloon ride.
Personalized gifts: A personalized gift shows that you've put thought into the gift and that it's unique to the recipient. Consider a personalized photo album, monogrammed bathrobes, or a customized piece of artwork.
Jewelry: A piece of jewelry is a classic gift that can be personalized and cherished for years to come. You could choose a necklace, bracelet, or earrings that incorporate your partner's birthstone or a meaningful symbol.
Technology gifts: If your partner is tech-savvy, consider a new gadget or device that they've been wanting, such as a smartwatch or tablet.
Home decor: If your partner loves to decorate, consider a piece of home decor that will make them smile every time they see it. This could be a painting, a vase, or a throw pillow with a fun design or quote.
Ultimately, the best gift is one that shows your love and appreciation for your partner and reflects your unique relationship. Consider their interests, personality, and needs when choosing a gift, and put thought and care into your selection.
Making a DIY book gift can be a fun and rewarding project, but it can also take some time and effort to create something that is truly special. Here are some things to consider before embarking on a DIY book gift project:
Skills and resources: Depending on the type of DIY book gift you want to make, you may need some specific skills or resources. For example, if you're making a scrapbook or photo album, you may need access to a printer, scrapbooking materials, and photo editing software. If you're making a custom-bound book, you may need bookbinding tools and supplies.
Time and planning: Creating a DIY book gift can be time-consuming, so be sure to allow yourself enough time to complete the project. Consider making a plan or a schedule to help you stay on track and avoid feeling overwhelmed.
Creativity and personalization: The best DIY book gifts are ones that are creative and personalized to the recipient. Consider incorporating special photos, quotes, or mementos that have meaning to your relationship. Think about what your partner loves and how you can incorporate that into the gift.
Overall, making a DIY book gift can be a fun and meaningful way to show your love and appreciation for your partner. Just be sure to consider your skills, resources, time, and creativity before starting the project, and don't be afraid to ask for help or inspiration if you need it.