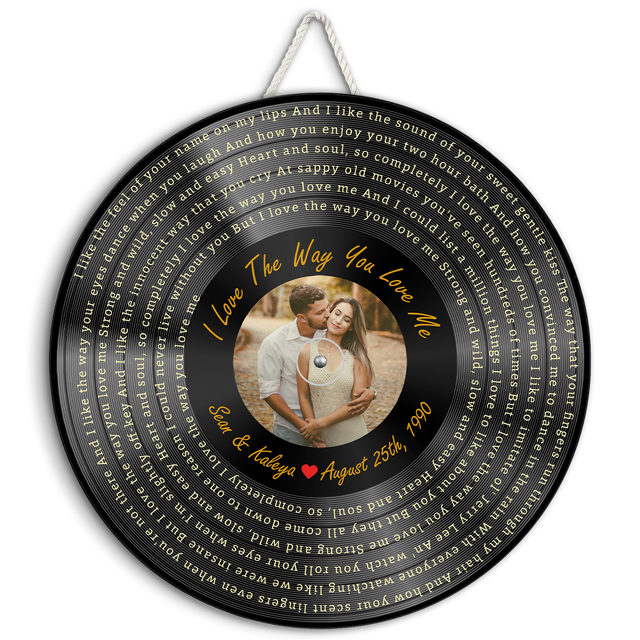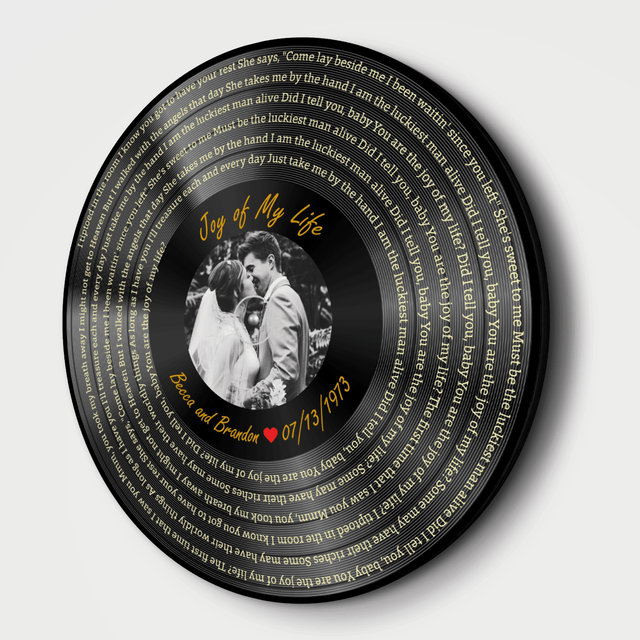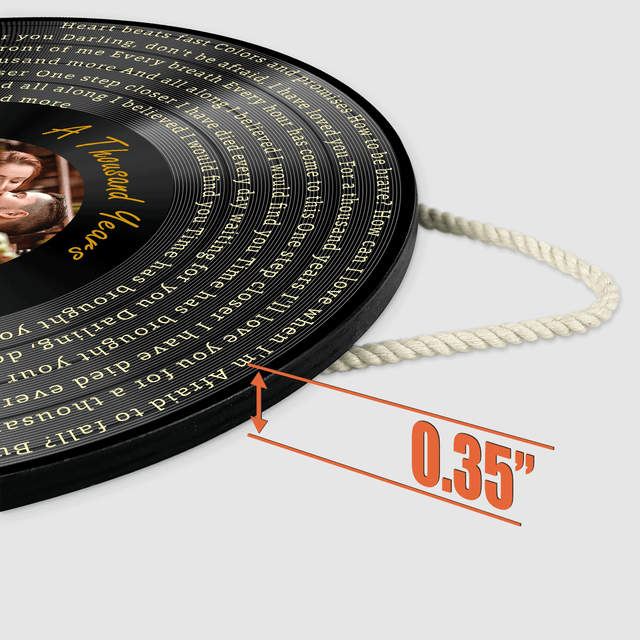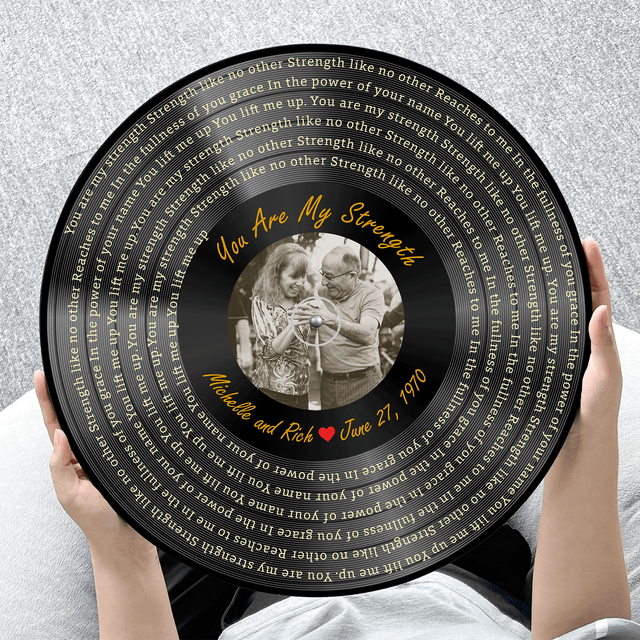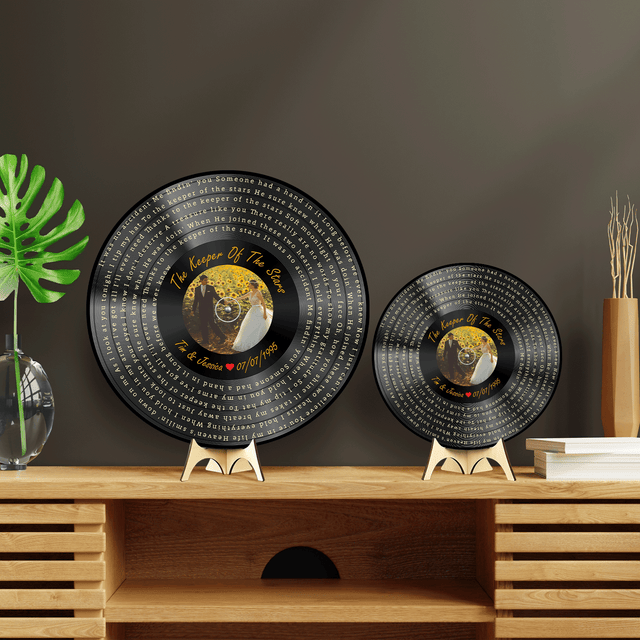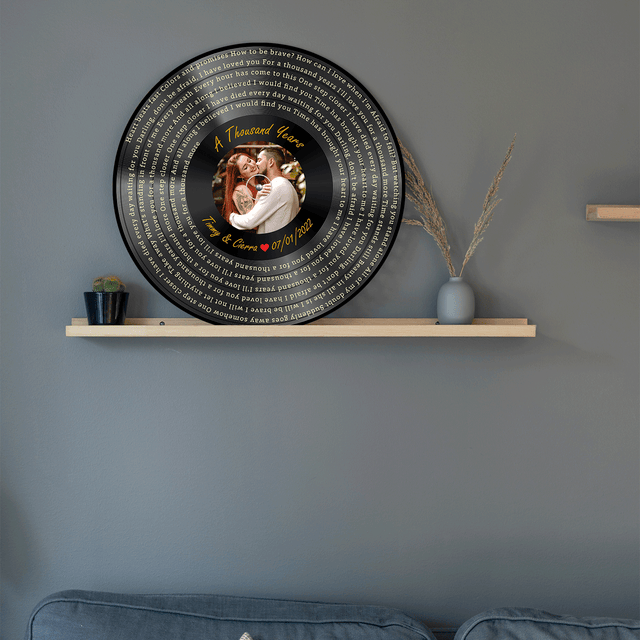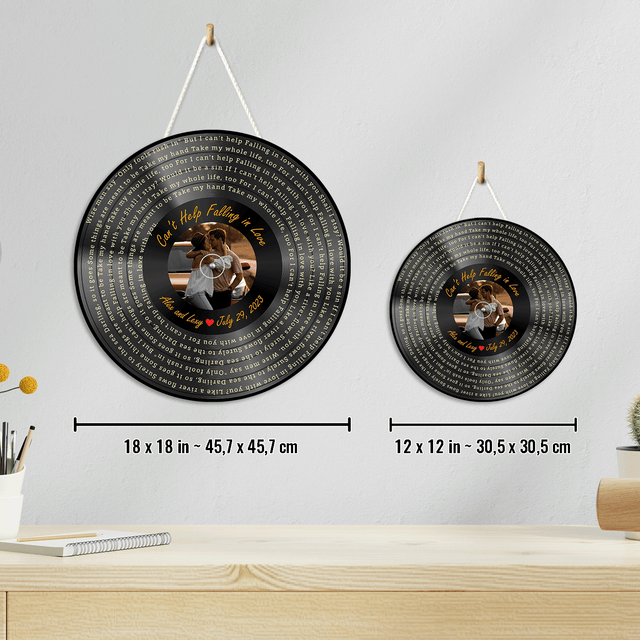 Custom Song Lyrics, Vinyl Record Art, Upload Photo, Customizable Song Name And Text Round Wood Sign
Extras:
Protection Plan includes *:

Damaged (Buckled, cracks, peeling surfaces)
Blurry color
Termite damaged
Term & Conditions:
365-Day of product protection start from the date of purchase.
The replacement is free (includes shipping fee)
A warranty pack is only valid for one item; please purchase a pack in proportion to the number of round signs purchased.
Additional Terms:
365-Day Product Protection Plan includes one replacement per previously selected item.
If your item has any defects that are covered during the term, please send a clear image of the defective product to our Customer Support Team, and we will gladly replace the item. The damaged item does not need to be returned.
If the purchased item is discontinued, we will replace the item with a similar item of equal or higher value.
* Please note that lost or stolen items are not covered by the plan.
1st Anniversary Gift
I got this for my husband for our first anniversary. He wanted the song '"Speechless" to be our first dance at the wedding, but I didn't want to do a dance. I should also mention he is into vinyl records so when I this, I thought that this would be the perfect thing. I gave it to him early and he loved it. The quality was amazing and I really like the option of putting it on a stand or hanging it up.
Hi Laura,
What a thoughtful and meaningful first-anniversary gift! It's wonderful that you incorporated the song 'Speechless' that your husband wanted for your wedding.
The fact that he's into vinyl records makes it even more special. We're thrilled to hear that he loved it and that you found the quality amazing. The flexibility of being able to put it on a stand or hang it up is a great feature.
Thank you for sharing this beautiful moment!
The overall product is beautiful and unique.
Hi Tara,
Your words fill us with joy! We're overjoyed that you find the overall product beautiful and unique. It's like a work of art that tells a special story.
Thank you for sharing in the beauty of our creations!
Love it!!
Excellent work and fast shipping! Beautiful product!!
Hi Lorine,
Thank you for your kind words! We're delighted to hear that you're happy with the excellent work and fast shipping of our beautiful product. Your satisfaction is our priority, and we're here to assist you whenever you need us.
If you have more creative projects or gifting needs in the future, don't hesitate to reach out. Thanks for choosing us!
Hi Theo,
We are honored to serve you, and the item met your expectations.
Thank you for choosing FamiPrints as a companion to make your anniversary day special.
The product looked amazing. They kept me updated from when it was being processed and shipped.
The item I bought was very cool. They did a great job.
Hi Amy,
Thank you for your feedback! We sincerely appreciate your support and we're thrilled to hear that the product looked amazing. It's our goal to provide exceptional products and service to our customers.
If you have any further inquiries or need assistance in the future, please don't hesitate to reach out. We're here to make your experience exceptional.
Thank you for choosing us and for your wonderful support!
Can't wait to give this to the birthday girl!
Purchased for my friend's birthday, and can't wait for her to open it! Very high quality and even includes hardware for hanging. Love the display stand that was also included. Will definitely purchase a similar product in the future!
I fell in love with it as soon as I seen it! I bought it as an anniversary gift to my husband and when he seen it he also loved it! It was better then I imagined! Thank you
Beautiful piece of work. I love it!
The vinyl looks awesome. Way better than I expected.
Quality and Fast Shipping!
We just received our Custom Song Lyrics and Vinyl Record Art. We love it. Well done. It looks amazing! We will definitly be ordering again for some gifts. Fast process and shipping! Thanks again.
HOW TO ORDER:
Add your personalization (song title, artist, name & date)

Our designers will fill the song lyrics for you!

Artist Name (Only used to find the correct song lyrics)
Best Material: Our product is made of wood, nontoxic, odor-free, exquisite craftsmanship & stylish design. You can choose what design suitable for your purpose.
Perfect Quality and Durability: It is totally SINGLE-SIDE printed in modern technology and is covered by superior painting, durable and vivid color, sturdy for indoor use.
Home decoration: These signs are nice addition in your home, garden, swimming pool, etc…or any party decoration in special occasions.
Gift of love: A perfect idea if you are finding a birthday gift, a housewarming gift, a festival gift, a Mother's Day/ Father's Day/ Christmas gift for your family or friends.
Widely usage: It can be used indoors or outdoors (a cool and dry place). Hang it on the front door or living room wall, over the fireplace or anywhere according to your decoration idea.
Packaging: 1x Wooden Round Sign
Our Product:
Material: High-quality plywood, covered by superior copperplate paper painting, durable and vivid color, sturdy for indoor use.
Single-side printed, 0.35 Inch Depth.
A jute rope is added to hang and display on the wall.
NOTE:

Actual color may be slightly different from the image due to different monitor and light effects.
Please allow 0.5-2 cm differences due to manual measurement.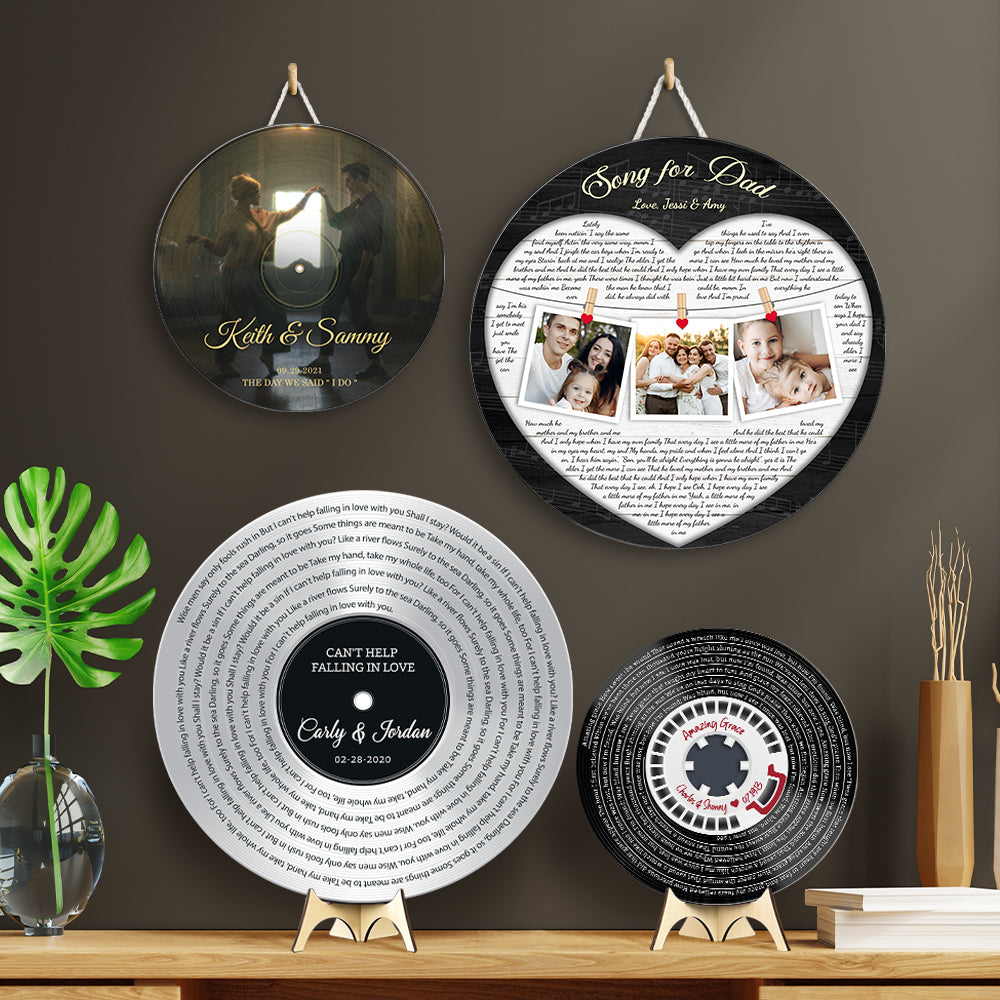 WHY choose us
Music-Inspired Round Signs, Personalized for You!
Every song reminds us of special moments. Taking inspiration from classic vinyl records, we have made unique round wood signs in a brand new version that shows song lyrics around the surface. They are like a nostalgic journey through your favorite tunes.
Customized for you, these signs resonate with your favorite moments and memories, making them perfect gifts for any occasion.
why choose us
High-Quality Materials Meet Sustainability
Crafted from high-quality plywood, our round wood signs are both exquisite and eco-friendly. Printed on one side with advanced technology and covered in vibrant paint, these pieces are durable for indoor use and symbolize both art and sustainability.
Why choose us
Ideal for Every Living Space!
Bring your personality into your living space and make your rooms the center of attention with our personalized artworks. These exceptional home decor ideas are ideally suited for every living area. You can easily hang the unique pieces with a rope or simply place them on a table using the wooden stand, making them fit nicely with your decorating style.
Why choose FamiPrints?
Where Quality, Beauty, and Value Align
At FamiPrints, we truly believe that materials and design matter. We put our heart and soul into creating products that make a difference. Our gifts are made with love in the USA, and they go beyond being ordinary objects. They have a special power to capture precious moments and strengthen the connections you have with your loved ones.
Let us be a part of honoring those special moments that mean the world to you! ❤
Real People, Real Stories
Dive into Our Customer Reviews!